Mission Statement for Holy Trinity Lutheran Church
Seek, Serve, and Share Christ.
In prayer and thanksgiving we: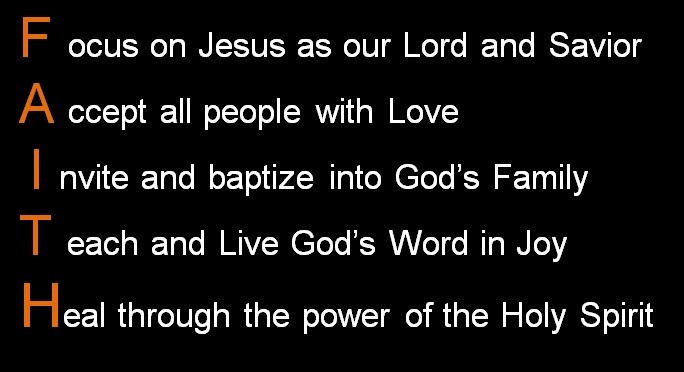 All Services and Events are Open to the Public - Invite a Friend to join you
August 4th, 2020
This is an update on worship and building activity at Holy Trinity Lutheran Church in the midst of many changes in the community and our lives due to COVID-19 / coronavirus.
1. Council adopted the following:
Beginning Sunday, August 9, 2020 Holy Trinity return to weekly virtual Holy Communion.
If you wish to receive Holy Communion during our weekly zoom worship service, have the following
ready before the service begins.
- a small piece of bread or cracker.
- a small glass of wine or grape juice.

2. Council adopted the following:
As long as Lucas Co. is deemed a Level 3, or higher risk for COVID-19, HTLC will:
- Follow the 2nd greatest commandment "You shall love your neighbor as yourself", in considering when the safest time is to begin to reopen the building to other services, meeting or gatherings;
- Continue on-line services indefinitely;
- Limit use of the church to staff and pantry volunteers only,
practicing recommendations or 6 feet distancing & wearing of masks;
- Enforce following safe distancing & wearing of masks, when 6 ft. distancing is not possible;
- Re-evaluate the benefits & risks to all congregants, when risk level is 2 or less.
3. Service Update:
We will now be ending each service using the Mission Statement as a way of remembering
who we are and what we are about as the people of God at HTLC.

Your partner in ministry,
Pastor Merlin Jacobs - Holy Trinity Lutheran Church
SUNDAY WORSHIP SERVICE LINK
Sunday Worship - 10:15 AM - [Link will open 30 minutes before service for you to chat to others]
BIBLE STUDY LINK
Tuesday Evening - 7:00 PM - [Link will open 15 minutes before service for you to chat to others]
Alternate Connection Information:
https://us02web.zoom.us/j/4193825644
Meeting ID: 419 382 5644
Password: HTLCzoom
Dial by your location
+1 646 558 8656 US (New York)
+1 301 715 8592 US (Germantown)
Meeting ID: 419 382 5644
Password: 128014
SUNDAY BULLETIN DOWNLOAD
Sunday Bulletin for - October 18th, 2020 - Twentieth Sunday of Pentecost
CHURCH COUNCIL MEETING LINK
Monday Evening - 6:30 PM - [Link will open 15 minutes before the meeting for you to chat to others]
CHILDRENS CORNER LINK
Holy Trinity's Christian Education presents: CHILDREN'S CORNER, Fruit of the Spirit for October
New CHILDRENS CORNER LINK
CHILDRENS CORNER LINK
Holy Trinity's Christian Education presents: CHILDREN'S CORNER, A SONG ABOUT CREATION
BIBLE STUDY LINK
Wednesday Evening - 7:00 PM - [Link will open 15 minutes before service for you to chat to others]